In your routine Google Analytics checks recently, you've undoubtedly seen the disclaimer about the upcoming transition to Google Analytics 4 (GA4).
With a hard deadline to make the transition fast approaching, we wanted to share a guide that specialists, marketing leads, and business owners can use to make the transition successful.
You'll learn why the change is happening in the first place, the benefits of GA4 over Universal Analytics (UA), the differences you'll notice in everyday use, and potential GA4 alternatives to consider.
But before we get to that, let's start with a quick definition of GA4.
What is GA4?
GA4, or Google Analytics 4, is the newest version of Google Analytics and is the successor to Universal Analytics. It's intended to help users collect website and app data more effectively to understand the customer journey better.
Why is the GA4 transition necessary?
Google cites "major shifts in consumer behaviour and privacy-driven changes to longtime industry standards" as its main reasons for forcing the transition to GA4.
Translated to practical terms, consumer behaviour differs from when Universal Analytics (UA) was first introduced. UA's inability to capture and report on these differences has led to gaps in the data for marketers.
GA4 aims to fill in these gaps, better capturing how modern-day people interact with your properties across different platforms. Doing this will give you the data you need to understand user preferences, create better experiences for them, and better respect their privacy in the process.
What are the benefits of GA4?
The most significant benefit of GA4 compared to previous versions is its ability to capture better, report on, and provide actionable data about the customer and user journey while checking more privacy boxes.
Below is a more detailed breakdown of the main benefits of GA4 over UA.
Machine learning
GA4 uses machine learning to automatically identify and categorize user behaviour, which can provide more accurate and detailed insights into user behaviour. It can also make setting up event tracking easier, which requires more tedious manual coding to set up in UA.
Cross-device tracking
GA4 includes built-in support for cross-device audience tracking, which allows you to track users as they interact with you across different devices and platforms, including mobile and web.
Privacy
GA4 includes improved data privacy features, such as using 1st-party cookies rather than 3rd-party cookies, the ability to anonymize IP addresses automatically, and the option to disable data collection for specific users.
Event tracking
Perhaps the most significant benefit to GA4 is its more flexible and customizable event tracking system, which allows you to track specific actions that users take on your website or app, such as button clicks, video views, form fill-outs, and page scrolls.
User interface
While it can take some time to get used to, especially if you're used to UA's layout, GA4's user interface is more streamlined once you get used to it, making it easier to find, sort, customize, and generally navigate the information you need.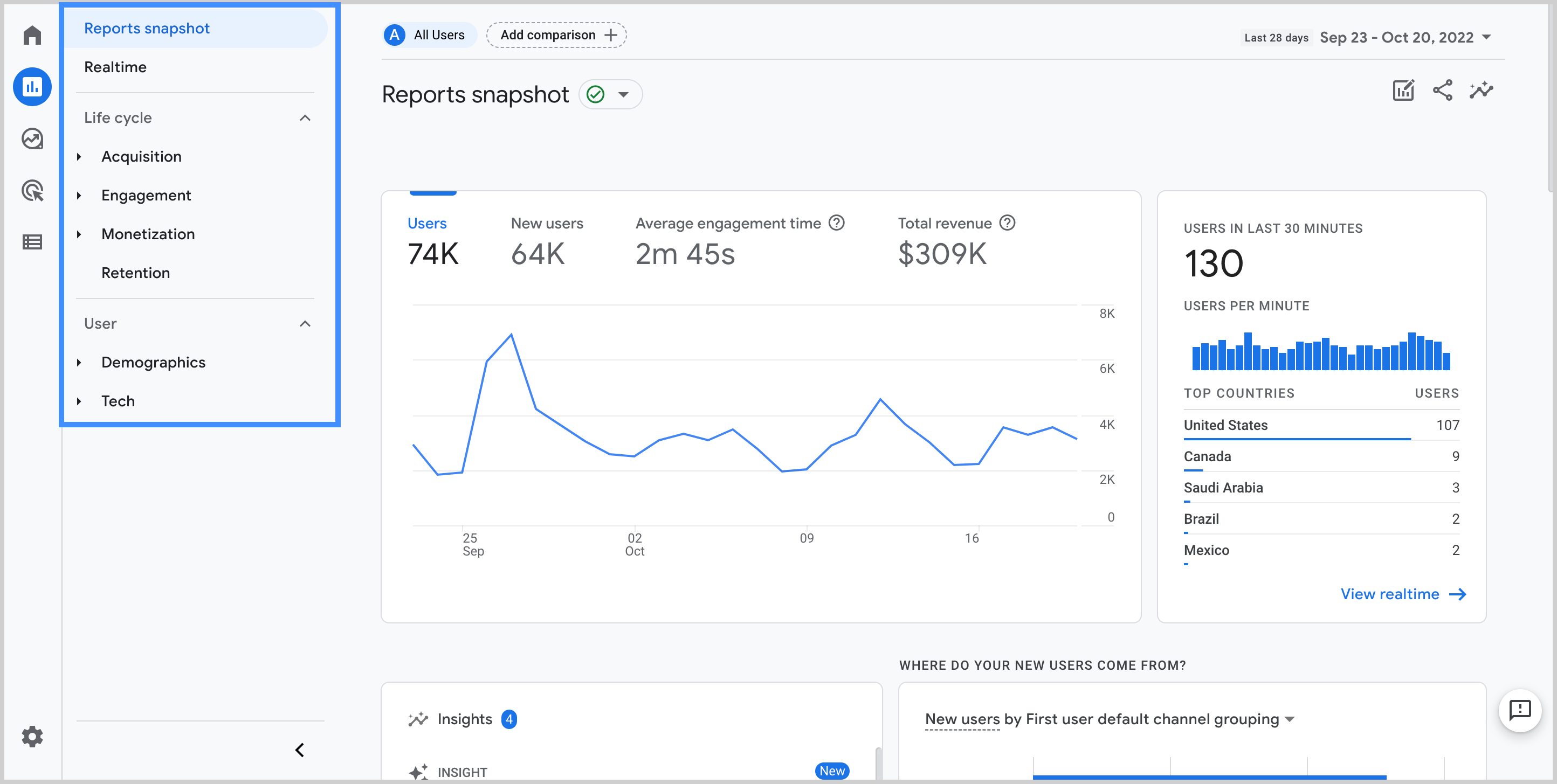 Google Integration
GA4 is better integrated with other Google products, such as Google Ads, Google BigQuery, and Google Looker Studio, making sharing data and creating customized reports easier with fewer information gaps.
On the topic of integration, as part of your transition to GA4, take time to audit all of the measurement tools in your data ecosystem to locate any potential issues with incompatibility, data accuracy, or integration.
What differences can you expect when using GA4?
There are three significant differences in GA4 you'll notice right away: a different reporting interface, zero data to start with, and the absence of bounce rate.
Different reporting interface
Things look different with GA4, and if you're used to using UA, it might take some time to figure out the new orientation of sections and features.
You can read Google's documentation to get acquainted with the new reporting interface.
There are also new reporting and analysis features, such as Exploration reports. These reports give you access to data and analytical techniques not available in regular reports to help you extract more insights from your data.
No historical data
When you look at your GA4 property for the first time, you'll notice there's no historical data to look at.
Unfortunately, because it's using a different data collection model, you cannot migrate your existing UA data into your new GA4 property.
This is why it's so important to export your UA leading up to your transition to GA4. This way, while you'll be starting from scratch once you make the transition, you'll at least have old reports to compare to.
Different metrics
The most significant difference concerning metrics is the bounce rate. If the bounce rate is a mainstay in your performance reporting, prepare to replace it with a new metric: engagement rate.
With GA4, bounce rate is being replaced with engagement rate, which is the percentage of total sessions that meet any of the following criteria:
Have a conversion event.
Are longer than 10 seconds.
Produce at least two page views or screen views.
This attempts to make up for the often-incomplete picture painted by bounce rate, which focuses too heavily on users taking certain actions without considering equally (if not more critical) engagement indicators like time on page.
For more help comparing metrics between Universal Analytics and Google Analytics 4, here is a full metric breakdown from Google.
When should you switch to GA4?
Firstly, here are the deadlines after which Universal Analytics will stop processing new data:
July 1, 2023, for regular UA properties.
July 1, 2024, for 360 UA properties.
If you don't transition from UA to GA4 before these dates, you'll no longer be able to collect data. For more information, here's everything that will happen to your existing UA properties after these dates.
After making the move, though, you'll still be able to see old UA reports for at least six months allowing you to compare older UA data with new data coming in through GA4.
The sooner you switch to GA4, the sooner you can start collecting and processing data through it (remember, you'll have no historical data in GA4 when you first set it up).
That said, it's worth keeping your UA properties active until Google sunsets them in July. This is so that:
You'll have more time to acquaint yourself with GA4 and set it up correctly without pressuring time constraints (i.e. you'll most likely have to set up new tags and events)
You can more gradually introduce new reporting processes and metrics to your clients (i.e. engagement rate instead of bounce rate)
You can compare data coming in through GA4 to UA data to understand how any key digital marketing metrics differ between the two
Plus, setting up GA4 is relatively easy. You can start by clicking "Let's go" in the message at the top of your UA dashboard, as shown in the image below.
For more assistance, here are Google's instructions for setting up GA4.
What does GA4 cost?
Like previous versions of Google Analytics, GA4 is free to set up and use.
That said, a paid version of Google Analytics is called Google Analytics 360. This version offers deeper functionality to help give enterprise teams actionable insights from their data.
With GA 360, you get the following:
No data sampling or account limits for deeper, more accurate data
The ability to create a single data source for all GA properties for easier, at-a-glance analysis and reporting
Native integration of several Google products not offered as part of the free, standard subscription, including BigQuery, DoubleClick, and Salesforce
Plus, whereas regular UA properties will stop processing data after July 1, 2023, 360 UA properties stop processing data on July 1, 2024, giving you an extra year to transition.
Are there alternatives to GA4?
With all of these changes, you're likely seeking an alternative to GA4 because you're looking for better privacy options or a certain kind of functionality.
For those in the privacy camp, here are some options:
Matomo (formerly Piwik): An open-source web analytics platform with similar functionality as GA4 that can be hosted on your own server, giving you complete control over your data.
Fathom Analytics: Provides basic metrics such as page views, unique visitors, and referral sources but doesn't use cookies or collect any personally identifiable information.
Plausible: An open-source, cookie-free, and privacy-friendly web analytics platform with similar functionality as GA4 that be hosted on our own server.
For those looking for better or more specific functionality, here are some options:
Adobe Analytics: Perhaps the most potent alternative to GA4, Adobe Analytics is a go-to for those looking for more advanced analytics capabilities, with features such as data visualization, machine learning, and attribution modelling.
Heap: A web analytics platform with a unique feature called "Retroactive Tracking" allows you to track historical data and events on your website before using Heap.
Mixpanel: Great for businesses needing advanced mobile and web app tracking.
Check out our article on the benefits of building a data ecosystem using multiple platforms and data sources.
Looking for more help with the transition?
Hire a digital marketing consultant today for more help with your GA4 transition or other marketing endeavours.
At Jordan Stevens Digital Marketing Consulting, we offer various services to help you achieve your business goals, including Google Ads, SEO, and data analytics with GA4 and Google Tag Manager.
Contact us today to learn more about our services and how we can help you achieve success.